Denim is a strong cotton fabric made using a twill weave, which creates a subtle diagonal ribbing pattern. First produced as serge de Nîmes in France in the seventeenth century, the cotton twill fabric is warp-facing, meaning that the weft threads go under two or more warp threads. The warp yarns are more prominent on the right side—these diagonal parallel lines make denim fabric different from other sturdy woven cotton fabrics like canvas or cotton duck. Many manufacturers produce denim fabric made from a mix of cotton fibers, polyester, and elastane to create stretch denim or increase durability.
Denim is usually colored with indigo dye, resulting in its characteristic blue-cotton color. After denim is colored, manufacturers can wash, rinse, or distress the fabric to produce a wide array of denim, from dark-wash to light. Manufacturers use a different dyeing process to create black or white cotton denim.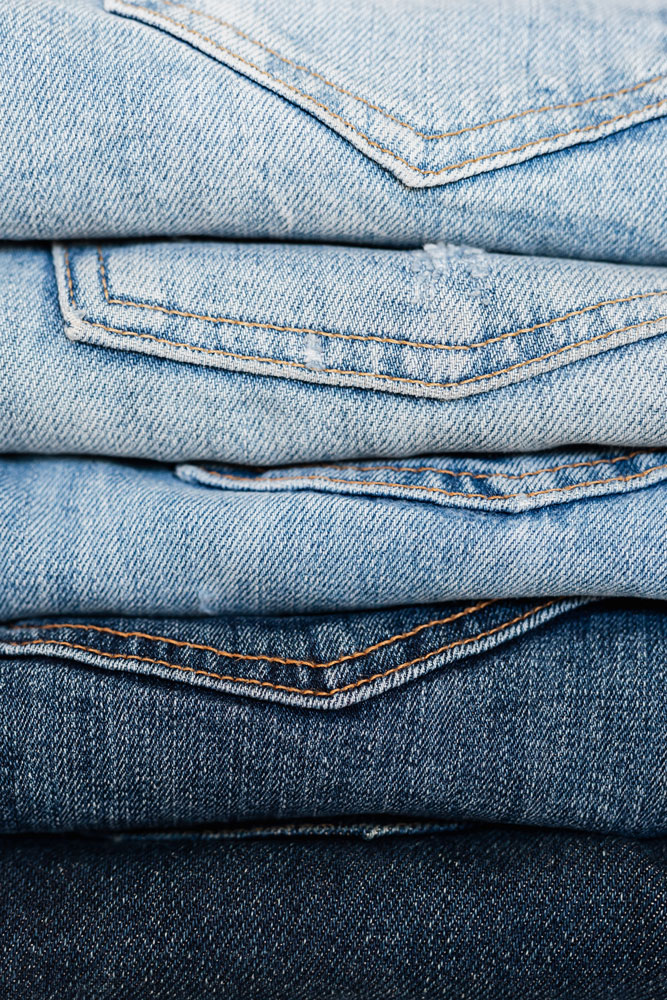 What Are Jeans?
Jeans are casual-wear pants typically made from denim fabric. Patented in the nineteenth century in the United States by Levi Strauss and Jacob Davis, a typical pair of jeans usually features a button clasp, a zipper, belt loops, and front and back pockets, with copper rivets to reinforce the pockets.
Often called blue jeans or denim jeans, many jeans are made from indigo denim and come in a range of blue colors; other standard colors include black and white. Jeans are available in various rises (from high-rise jeans to low-waisted jeans) and fits (from baggy jeans to slim-fit to skinny jeans).