Usually, denim is made of pure cotton indigo dyed warp yarn and natural weft yarn, and then the right twill structure of three top and bottom is staggered. It can be divided into light, medium and heavy according to the weight of the cloth. Below, professional pure cotton denim manufacturers will explain how to distinguish pure cotton denim:1. Generally speaking, pure cotton denim has good air permeability, comfortable wearing, thick texture and clear texture. After proper treatment, it can prevent wrinkling, shrinkage and deformation;2. Indigo cotton denim is a coordinated color, which can match with various color tops. It is suitable for all seasons, and it is also a non stable color. The lighter it is washed, the lighter it is, the more beautiful it is.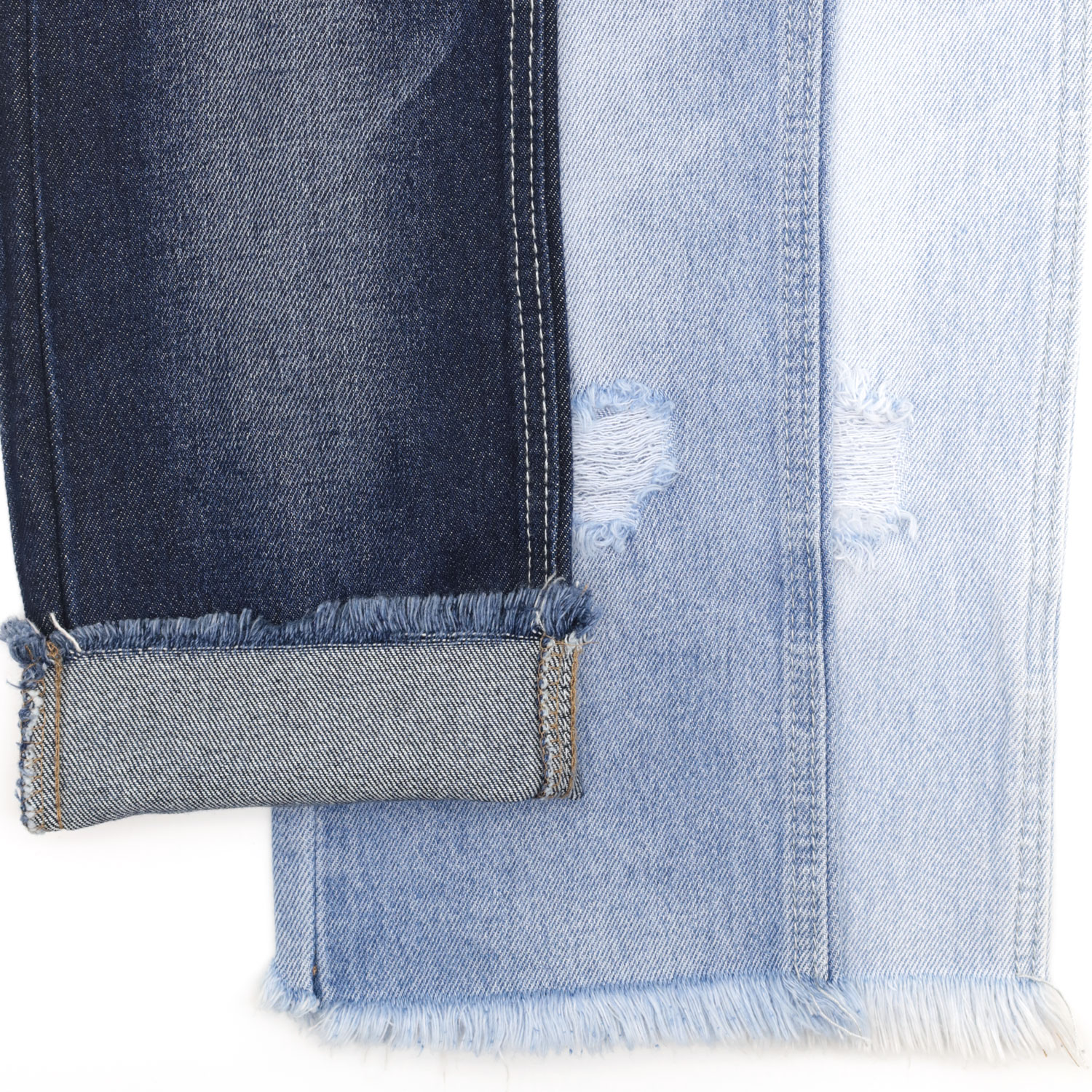 3. Conventional pure cotton denim is generally a snowflake denim made of low proportion polyester and cotton blended as warp yarn, washed and dyed as white effect, and then woven with medium length fiber (T / R);4. Denim of different colors woven by different processes shall be selected, and during warp dyeing, the denim shall be counterstained with dyes such as vulcanization or aquamarine blue, and then dyed with indigo.5. Hanging white or printing on indigo denim. The indigo dye of pure cotton denim is natural or composed indigo dye, and can also be mainly used for imitation dyeing of sulfide dye, vat dye or direct dye, etc.
The fashionable trend in modern society always rises one after another. Denim is also combined with the interests of several fabrics. The effects of different raw materials of jeans are more reflected in whether they are breathable, skin friendly and elastic, while whether the appearance of jeans is fashionable is more reflected in spinning, weaving and washing processes.For example, snowflake pants, slub denim Buda spun with slub yarn is often used in production to realize the concave convex three-dimensional feeling of different colors and levels.Knitted denim, which became increasingly popular in the European and American markets at the end of last century, has become a new favorite in the market. Some large fabric purchasers, such as lizclaiborne, land'send, jockey, gap, etc., have shown intense interest and demand for this new fabric which is different from the traditional yarn dyed twill fabric. Knitted denim has the advantages of clear grain, soft feel, breathable and comfortable, strong elasticity and thin quality.
The eye-catching whitening effect in jeans is completed through different washing processes. The common methods are stone washing / stone grinding, enzyme washing, sand washing, etc.