Denim is made of pure cotton indigo dyed warp and natural weft, which are staggered by three upper and lower right twills. Generally, it can be divided into light, medium and heavy types. The small knitting of high-grade denim fabric company tells you that the width of the fabric is mostly between 114-152 cm.The characteristics of denim are as follows:1. Pure cotton coarse count yarn twill cloth, moisture permeability, good air permeability, comfortable to wear;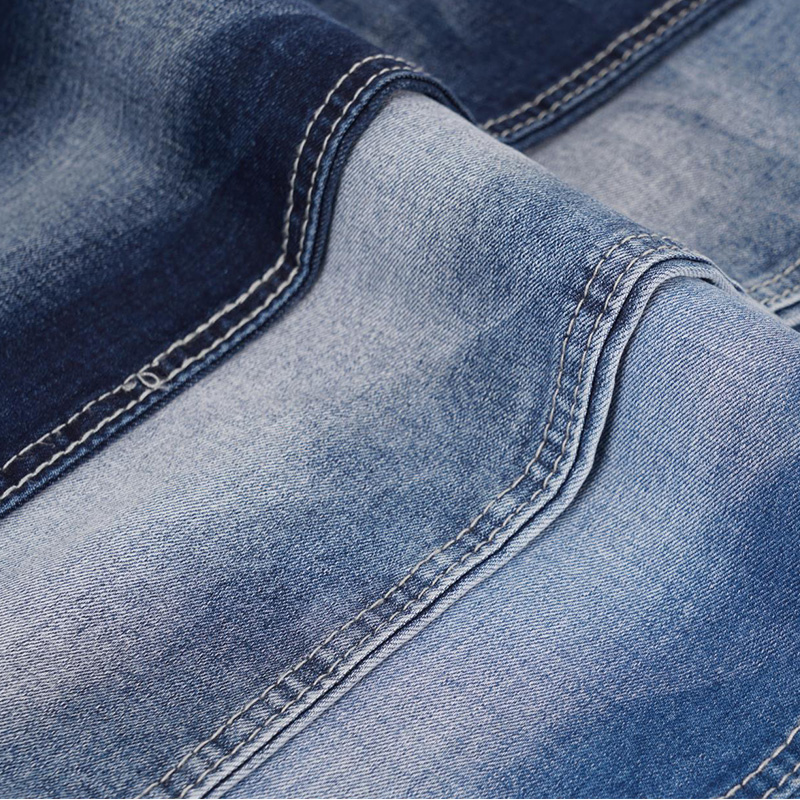 2. The texture is solid and clear. Through proper treatment, it can prevent wrinkle, shrinkage and deformation;3. Indigo orchid is a kind of harmonious color, which can match with all kinds of color tops. It is suitable for all seasons;4. Indigo is a non solid color. The lighter it is washed, the more beautiful it is.
In addition to the traditional products described in the small series of high-end denim fabric company above, there are also pattern denim:1. Choose pattern denim with different material structure(1) The elastic denim is woven by using a small share of spandex yarn (about 3-4% of the yarn weight) as the core wrapped elastic warp or weft of warp yarn;
(2) Snowflake denim with low share polyester and cotton blended as warp yarn and white leaving effect after dyeing;(3) High grade denim made of cotton, linen and cotton wool blended yarn;2. Pattern denim woven by different processing technologies
(1) Bark crepe denim woven with high twist weft yarn;(2) In warp dyeing, we first use dyes such as sulfurized or haichanglan to make the base, and then dye indigo blue to dye the over dyed denim;Inventory of denim fabrics is generally problematic, and most of them are defective, so high-end denim fabric companies remind to ask about the shrinkage rate when purchasing and selling.