Elastic denim fabric has always been a popular fashion and leisure fabric. Elastic fabric has a long history. From traditional cotton elastic fabric, polyester elastic fabric and polyester cotton elastic fabric to today's Denim elastic fabric, cotton sticky elastic fabric and Tencel cotton elastic fabric, it reflects the development and progress of textile science and technology and the improvement of aesthetic concept.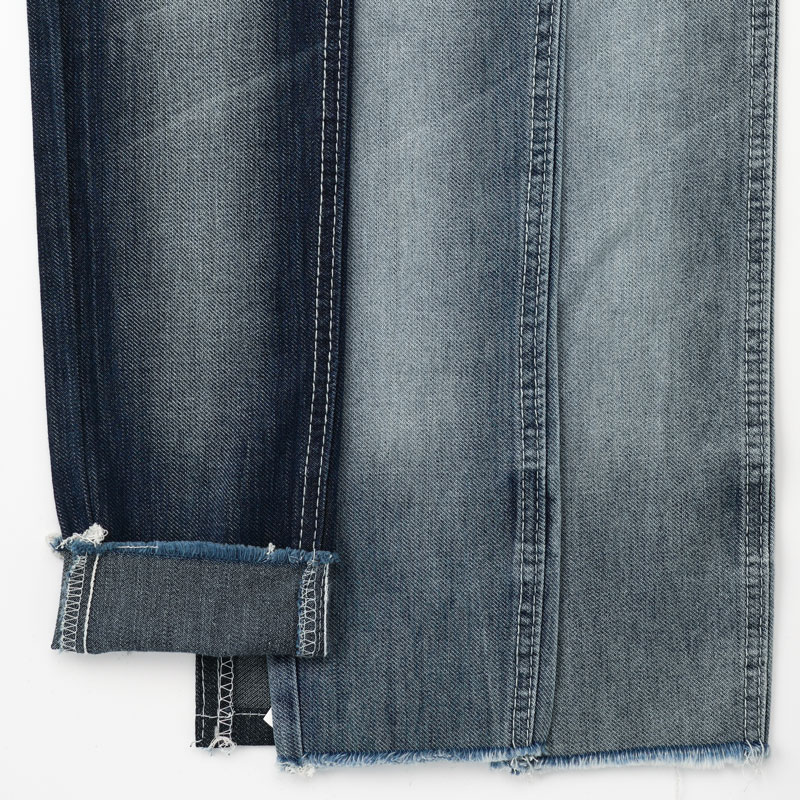 Compared with non elastic fabrics of the same material, elastic denim fabrics reduce the sense of bondage, move freely, and are more suitable for leisure sports. Moreover, elastic fabrics can be used as slim clothes. For female friends with better figure, wearing elastic denim fabrics can really increase a lot of self-confidence. Therefore, elastic denim fabric is widely used in casual women's clothing, from bra underwear to windbreaker coat, almost everywhere. The standard to measure the quality of elastic denim fabric is mainly reflected in two aspects: one is the comfort and environmental protection of material, and the other is the fashion of cloth style.
Material is always the decisive factor of fabric quality, and elastic fabric is no exception. Natural cotton, hemp, silk and wool and new regenerated cellulose are very high-quality raw materials in the upper layer, because natural raw materials have strong air and moisture permeability, sweat in summer and keep warm in winter, while new regenerated cellulose fibers are derived from original ecological plant fibers, and their functions are even no less than natural materials, Therefore, these elastic denim noodles are naturally regarded as excellent casual fashion fabrics. Compared with the above materials, familiar chemical fiber elastic fabrics such as polyester elastic fabrics and nylon elastic fabrics are considered to be inferior elastic fabrics because of their rough hand feel and low air and moisture permeability.
In practical application, natural and new elastic fabrics have superior performance, but the price is relatively high, so the application is limited. Although the function of ordinary chemical fiber elastic fabrics is poor, the price is low, so they are widely used. In recent years, interwoven elastic fabrics have filled the gap of medium-grade elastic fabrics. The price and function are moderate. They are elastic fabrics worthy of further research and development. For example, brocade cotton elastic fabrics and polyester cotton elastic fabrics are the representatives of medium and high-grade elastic fabrics.Like other fabrics, elastic fabrics should also innovate in texture and appearance to adapt to the fashion trend, and meet people's aesthetic needs by adjusting the cloth mechanism and feel. This is the thinking and concept that the textile industry needs most, and the fashion that adapts to the trend is good.Elastic denim fabric will always be the mainstream of fashionable women's clothing fabric. It is our direction to organically combine material and texture and develop comfortable, environment-friendly and new elastic fabric.