In the late 1850s, a Prussian American gold digger named levy Strauss came to San Francisco. He used to be a cloth merchant and took with him some canvas for tents and car tents. Seeing that the cotton trousers worn by the gold miners were easy to wear out, he cut them with thick canvas to sell pants with low waist, straight legs and tight hip circumference. They were very popular with the gold miners and have since become the characteristic clothes of cowboys. Levi further changed the trouser material into indigo twill coarse cloth. His business grew bigger and bigger. He applied for a patent in 1871 and officially established Levi Strauss company. Later, he developed into an international company with products all over the world.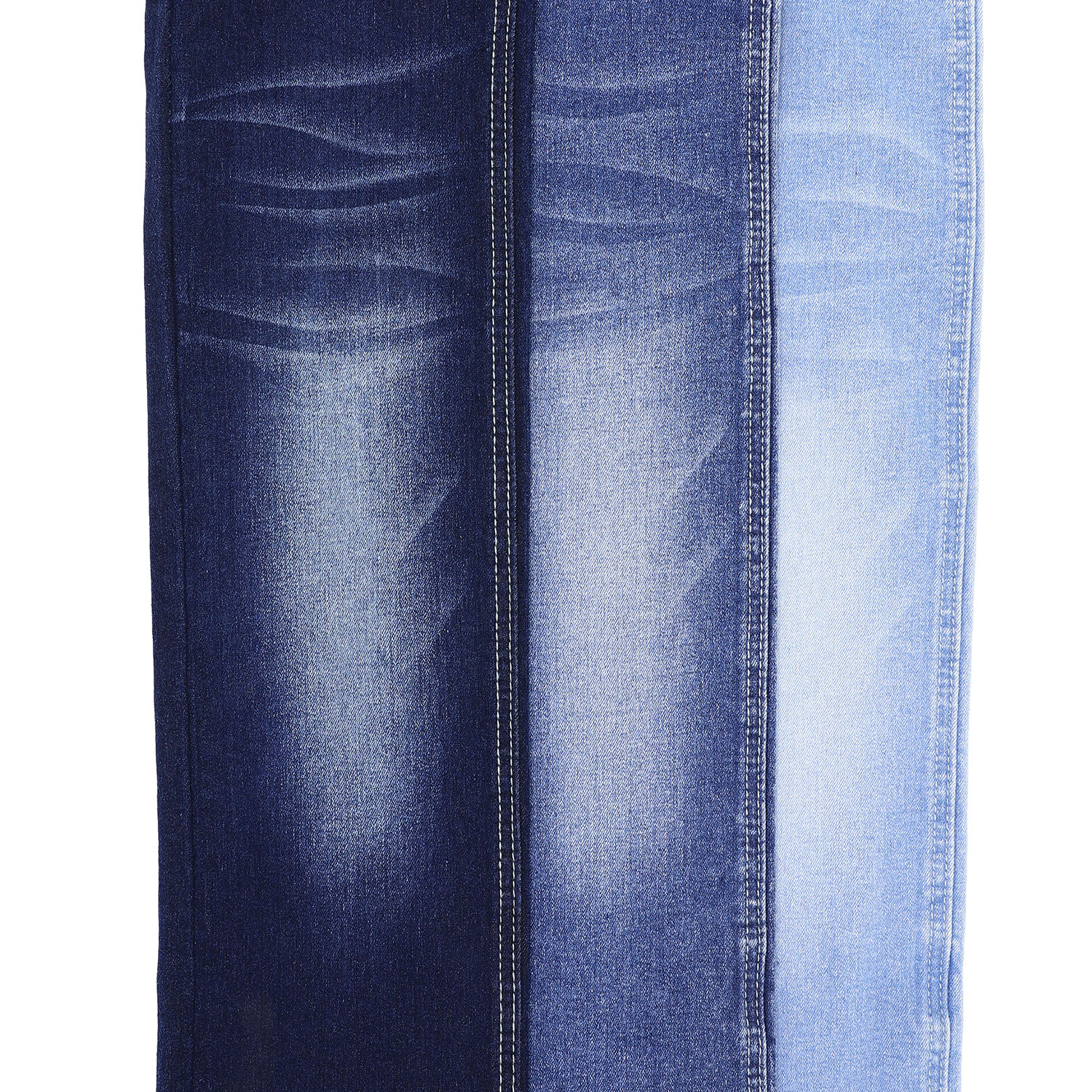 After World War II, jeans became popular among young people in American cities. Different from dress and high fashion, it is a popular model from bottom to top. The fabric and style have a free, bold, practical and fashionable style.
Since then, dark blue has become a popular color. More than 150 years later, he returned to Europe in the form of blue jeans, which became an indispensable fashion dress for young people at that time. So that during the election campaign, in order to please young people, the president of the United States should wear jeans on specific occasions to meet the favor and recognition of young people. Jeans have gradually developed into global clothes. They began to be introduced into China in the early 1980s and became popular rapidly. Many people, especially young people, have a special preference for jeans.
What is denim
Denim, also known as denim, is a thick yarn dyed warp twill cotton. The warp color is dark, generally indigo, and the weft color is light, generally light gray or white yarn after scouring. Also known as indigo labor cloth. It began in the western United States and was named after herders who used it to make clothes and trousers. Warp yarn adopts the one-step dyeing process combined with sizing dyeing, and the yarn count includes 80tex (7 British), 58tex (10 British), 36tex (16 British), etc; Weft yarn counts include 96tex (6 British), 58tex (10 British) and 48tex (12 British), with 3 / 1 weave, and denim with variable twill, plain or crepe weave. After anti shrinkage finishing, the shrinkage of grey fabric is smaller than that of ordinary fabric, with compact texture, thick, bright color and clear texture.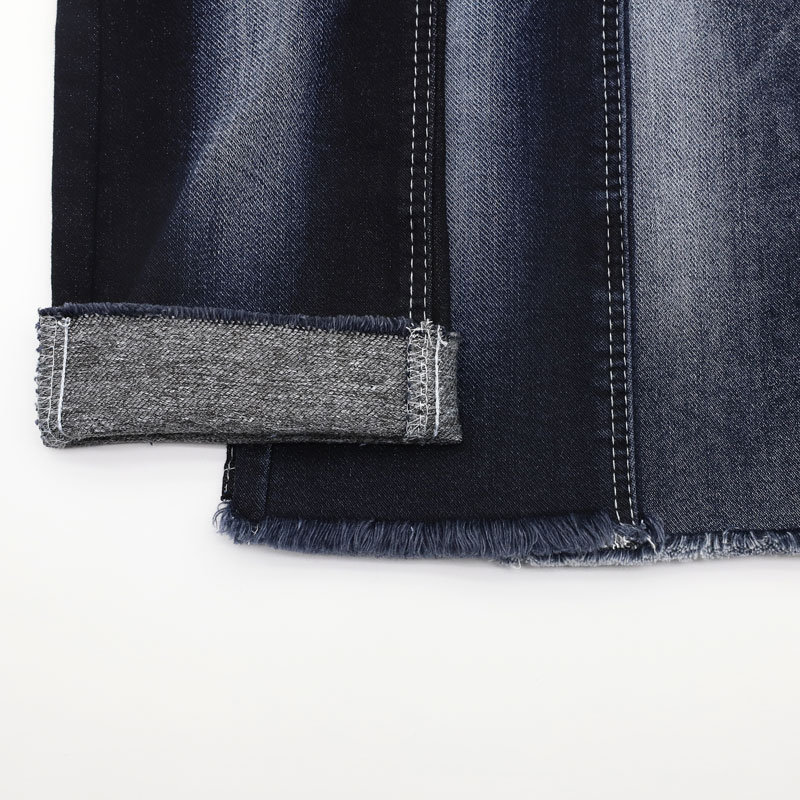 Characteristics of denimThe characteristics of denim fabric depend on its raw material composition, yarn characteristics, organizational structure, weaving methods and other factors, especially the finishing plays a very important role in the characteristics of denim fabric.1. Appearance and hand feel characteristics of denim fabric
Feel the fit and texture of denim fabrics by hand. They are soft and stiff, rough and delicate, and elastic and tensile. Denim produced by pure cotton combed strand line has smooth surface, clear grain and smooth hand feel.Wash denim is soft and comfortable; After stone washing, the cloth surface is gray and old, with slight to severe damage;Enzyme washing can make the cloth fade slightly, fade the wool, produce the "peach skin" effect, and get a lasting softness effect;
There is a certain fading phenomenon and old feeling after sand washing. If a stone mill is used, a layer of soft frost white fluff will be generated on the surface of the washed fabric. Adding some softeners can make the washed fabric soft and soft, so as to improve the comfort of wearing.In short, through different processing methods, denim fabrics will have different appearance and hand feel characteristics.2. Physical and chemical characteristics of denim fabric
Good denim fabric should not have any irritation or other peculiar smell, but also pay attention to environmental protection. For example, the denim developed and produced by compact spinning not only returns to the traditional style of ring spinning fabric and meets the needs of people to return to nature and advocate nature, but also makes the surface of denim products bright and silky due to the characteristics of few hairiness and high strength on the surface of compact yarn, which makes the skin feel better and more comfortable when wearing. At the same time, using this compact yarn as warp yarn, the sizing rate can be reduced by 50%, and the post finishing and singeing process can be omitted, which can save resources and reduce pollution. The combination of physical and chemical finishing will greatly change the appearance style, mechanical properties and wearing comfort of denim fabrics
Classification of denimThere are many ways to classify denim fabrics. According to the thickness of denim, denim fabrics are divided into 4.5 A, 6 A, 8 A, 10 A, 11 A, 12 A, 13.5 a, 14.5 a, etc. 4.5 A is very thin, which is often used for women's vests and sleeveless shirts in summer, while 14.5 A is very thick, which can be used for men's cotton padded clothes in winter. Most of the jeans we often wear range from 8 A to 12 a.In terms of the types of denim fabrics, they can be divided into plain, twill, herringbone, interwoven, slub, dark and flocked denim
In terms of composition, denim is divided into combed and combed, with 100% cotton, elastic (Lycra), cotton linen blend and TencelAt present, the most popular denim varieties at home and abroad are ring spinning denim, warp and weft slub denim, super indigo dyed denim, color matching, color matching denim and weft elastic denim.1. Ring spun denim
With the development and application of new process equipment such as ring spinning high speed, large winding, fine winding and knot free yarn, the shortcomings of coarse count yarn, such as short spinning length, low production efficiency and many knots, have been solved. The situation that denim yarn is replaced by rotor yarn is changing rapidly, and ring spinning yarn has a great potential to make a comeback. Because ring spun denim is superior to air spun yarn in some properties, such as hand feel, drapability, tear strength, etc., and because people return to nature psychologically and pursue the influence of the original developed denim style, the more important reason is that the surface of ring spun denim clothing will show a hazy bamboo knot style after grinding and washing, It is in line with the personalized needs of today's jeans. In addition, slub yarn jeans are very popular in the market, and ring slub can spin short and dense slubs, which also promotes the development momentum of ring spun denim.
2. Slub denimWhen slubby yarns with different yarn numbers, slubby thicknesses (ratio to base yarn), slubby lengths and pitches are designed, slubby yarns are equipped in single warp or single weft direction and both warp and weft directions, and are properly proportioned and arranged with normal yarns of the same or different numbers, a variety of slubby denim can be produced, After washing and processing, various hazy or clear strip and grid style jeans can be formed, which is welcomed by consumers with personalized needs.
Early slub denim almost used ring slub yarn. Because it can spin slub yarn with short length, small pitch and relatively large density, it is easy to form a dense decorative effect on the cloth surface, and mainly warp slub. With the development of market consumption demand, warp and weft two-way slub denim is popular at present, especially the two-way slub denim products with weft elasticity, which are very popular in domestic and foreign markets. As long as the organizational structure of some varieties is well designed, a single variety of ring spun yarn can be used in warp direction and slub yarn with an appropriate proportion in weft direction, which can also achieve the effect of warp and weft two-way slub jeans.
3. Weft elastic denimWith the adoption of spandex elastic silk, the variety of jeans has developed to a new field, which can make jeans close and comfortable, and then match with bamboo knots or different colors to make jeans products more suitable for fashionable and personalized consumption needs, so they have great development potential.At present, elastic denim is mostly weft elastic, and the elastic elongation is generally 20% 40%. The elastic elongation depends on the fabric organization design. The smaller the warp and weft organization tightness on the loom, the greater the elasticity. On the contrary, under the condition of fixed warp organization tightness, the greater the weft elastic yarn tightness, the smaller the elasticity and the weft tightness to a certain extent, There may even be a loss of elasticity.
4. Colored denim based on indigo
In order to increase the color and light changes of indigo cowboy varieties, various colored cowboy varieties are very popular at present. For example, indigo dyeing sulfur black, indigo dyeing sulfur grass green, sulfur black green, sulfur blue, etc. to meet the personalized needs of the market. At the same time, denim manufacturers have their own patented new denim varieties to improve the competitiveness of the market. In this regard, it should be noted that the concentration of mother liquor should be controlled as much as possible to prevent excessive overflow of dye liquor from causing dye waste and expanding environmental pollution.
5. Colored (assorted) denimThere are mainly brominated indigo (commonly known as emerald blue in the market) denim and sulfur black denim, coffee, emerald green, gray, khaki and sulfur blue denim colored with sulfur dyes, and a small amount of bright red, peach and imperial denim dyed with naftal dyes or reactive dyes. Although the production batch is small, the market demand is urgent and often can not meet the demand.
The main problem is that the color and luster is not stable enough, the importance of dyeing is also poor, and the garment manufacturers are not satisfied. This is related to the small production batch and too many color varieties, but it is difficult to produce color varieties by the dyeing pulp combine, which also has a certain impact, such as large consumption, high cost, and difficult sewage treatment. The first solution is to reduce the number of color matching as much as possible in the design, and use two color matching as much as possible, no more than three color matching at most, or use other stable dye varieties to replace them, so as to adapt to the production characteristics of the dyeing pulp online table and obtain a more stable dyeing effect. The second is to completely solve the problem, or use the yarn high-capacity dyeing in the yarn dyeing factory, It is ideal to produce colored denim by slitting and warping.
6. Super indigo dyed denim
Because the clothes made of super indigo dyed or extra deep indigo dyed denim can obtain the special effect of rich and bright color after grinding and processing, they are widely welcomed by consumers. "Super indigo" dyed denim has two characteristics: the dyeing depth is very deep and the color fastness to grinding is very good. The former refers to the amount of indigo dye dyed on the yarn per unit weight (generally expressed as% of the dry weight of the yarn, referred to as the dyeing depth%). For example, the indigo dyeing depth of conventional denim warp yarn is 1% 3%, while the "super indigo" dyeing depth needs to reach more than 4%, which can be called super indigo or extra deep indigo. The latter refers to that the "super indigo" dyed jeans need to undergo repeated grinding and washing for more than 3 hours, and its color can still reach or exceed the color depth of conventional dyed denim without grinding and washing, and its color light is much brighter than that of conventional dyed denim.
For the abrasion color fastness of indigo dyed denim, its essence depends on the core penetration of the dye to the yarn, rather than the abrasion fastness of the dye itself (the wet abrasion fastness of Indigo is only grade 1), that is, the better the core penetration, the better the abrasion color fastness.