This paper introduces the classification of denim from the aspects of raw materials, spinning methods, weaving technology, finishing technology and appearance style, and expounds the performance characteristics of denim fabrics and the market characteristics of denim products.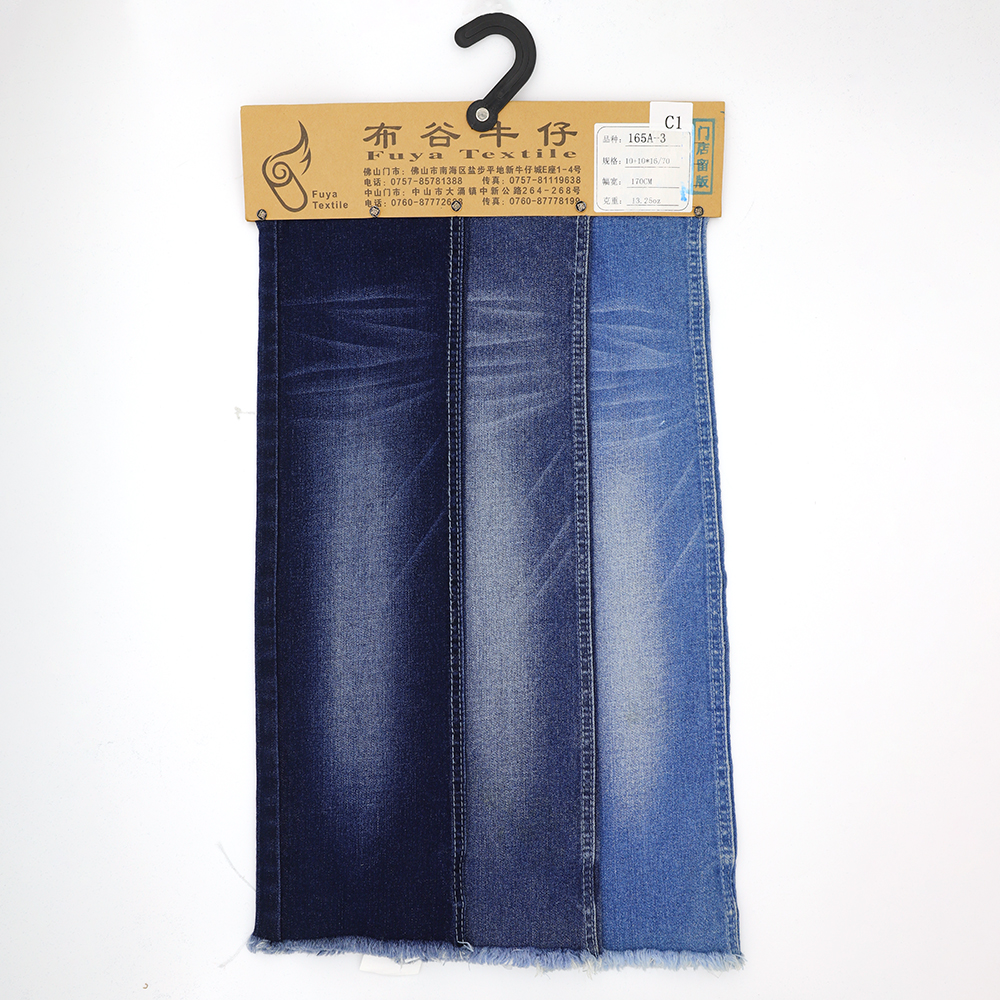 Jeans originated from the clothing styles worn by young herdsmen during the gold rush in the western United States in the 1950s, including cowboy hats, cowboy shirts, cowboy jackets, jeans, cowboy boots, etc. The pockets are mainly patch bags, the bag mouth is nailed with metal rivets for reinforcement, and the obvious identification parts are nailed with metal bronze medals. Brick red coarse seam sewing thread is selected, and double open thread and exposed stitches are used. The tops are mostly over shoulder structure, with metal zippers on the placket or metal four piece rivets, showing the style of Shaye rough and crazy, rebellious and self-esteem.
After World War II, jeans became popular among young people in American cities. Different from dress and high fashion, it is a popular model from bottom to top. The fabric and style have a free, bold, practical and fashionable style. The earliest jeans were brown canvas trousers worn by sailors in Genoa port, Italy. In 1858, Levi Strauss, a Bavarian businessman, began to import a fabric from a town in southern France, which was called denim. This is a twill cloth with warp dyed dark blue and weft not dyed.
Since then, dark blue has become a popular color. More than 150 years later, he returned to Europe in the form of blue jeans, which became an indispensable fashion dress for young people at that time. So that during the election campaign, in order to please young people, the president of the United States should wear jeans on specific occasions to meet the favor and recognition of young people. Jeans have gradually developed into global clothes. They began to be introduced into China in the early 1980s and became popular rapidly. Many people, especially young people, have a special preference for jeans.
1 denim fabric classificationThere are many ways to classify denim fabrics, mainly from the raw materials, yarns, weaving, finishing, appearance and so on.1.1 classification by raw material composition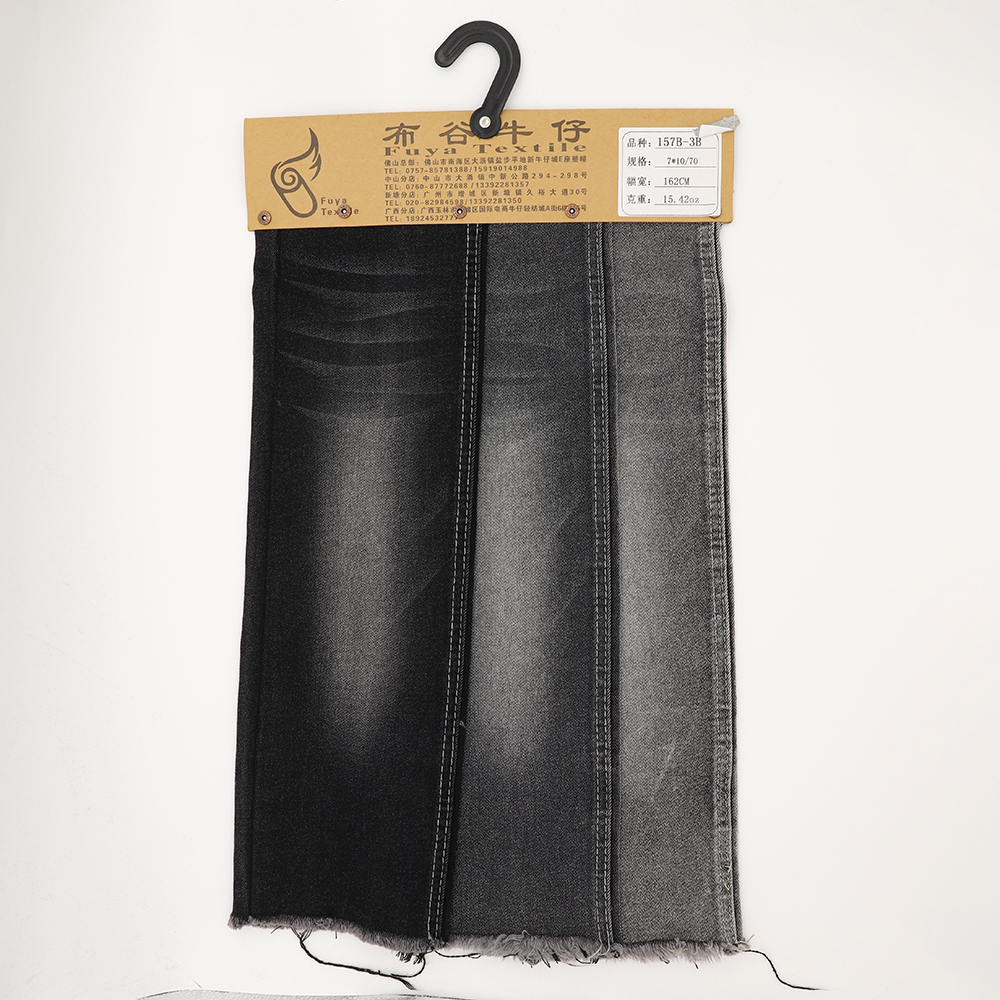 The raw material composition of denim fabric can be divided into pure spinning and blended spinning. At first, it was mainly pure cotton. Later, in order to improve the wearing characteristics of pure cotton jeans, some other chemical fibers such as polyester, acrylic, vinylon and viscose fibers were added, especially spandex was added to improve the elasticity of jeans to make elastic denim, which was once popular. In recent years, in order to expand the categories and special needs of denim fabrics, wool, cashmere, silk, hemp and other fibers are also selected to develop special non cotton denim fabrics with denim style.
1.2 classification by spinning methodThe original denim fabrics used ring spun cotton thread. With the continuous improvement of spinning technology and the emergence of various new spinning methods, there are many yarn patterns used in denim fabrics, including single yarn, strand yarn, filament and even compound yarn. In addition, various fancy threads are selected for the decoration and embellishment of denim fabrics, enriching the categories of denim fabrics.1.3 classification by weaving method
The traditional denim fabric is mainly woven. The warp is first dyed into dark blue, and then there are brown, black and other colors, and then interwoven with the natural color weft into single-sided left or right twill weave of "2 up and 1 down" or "3 up and 1 down", or double-sided left or right twill weave of "2 up and 2 down" and "3 up and 3 down". In order to broaden the variety of denim fabrics, some enterprises have introduced twill changes, twill joint organizations and complex organizations with twill as the theme. In recent years, some enterprises have developed knitted fabrics and denim fabrics with special weaving methods.
1.4 different classification of post sorting methods
Jeans are mostly finished clothes dyeing and finishing, and a few are finished fabrics before making clothes. There are two main types of garment finishing, namely, physical and chemical finishing. The former is such as grinding and sand blasting, while the latter is more and more. The most basic method of denim finishing is physical and chemical washing water, such as general washing, stone washing / stone grinding, sand washing, damage washing, etc. With the progress of science and technology, more and more new washing processes are emerging. Due to the limitations of production conditions, processing costs and regional environmental protection, the washing scale of jeans is also greatly limited. The post-processing of anhydrous jeans will become the direction of development in the future.
Nowadays, some denim fabrics are processed after different physical and chemical finishing, such as thread embroidery, discharge dyeing, resin, softness, machine embroidery, hot drilling, glue printing, laser and so on. Using only one kind of washing water processing is difficult to meet the needs of different consumers. Generally, several processes are used together. It is required that cowboy designers must understand the washing water process and be able to master it, so as to innovate cowboy clothing to the greatest extent. The ever-changing washing process is also an important reason for the popularity of jeans.1.5 classification by appearance styleThe style of jeans sometimes depends on the style of denim fabrics. They complement each other and are greatly affected by consumption popularity. Most denim fabrics have rough, bold, firm and exaggerated appearance, but there are also exquisite, colorful and exquisite special effects. At present, cowboy fabrics are influenced by the fashion of their clothes, and their varieties and styles are gradually diversified, such as strong, lattice, jacquard, concave convex strips, color strips and other cowboy fabrics.
2 performance characteristics of denim fabricThe characteristics of denim fabric depend on its raw material composition, yarn characteristics, organizational structure, weaving methods and other factors, especially the finishing plays a very important role in the characteristics of denim fabric.2.1 appearance and hand feel characteristics of denim fabric
Feel the fit and texture of denim fabrics by hand. They are soft and stiff, rough and delicate, and elastic and tensile. Denim produced by pure cotton combed strand line has smooth surface, clear grain and smooth hand feel. Wash denim is soft and comfortable; After stone washing, the cloth surface is gray and old, with slight to severe damage; Enzyme washing can make the cloth fade slightly, fade the wool, produce the "peach skin" effect, and get a lasting softness effect; There is a certain fading phenomenon and old feeling after sand washing. If equipped with a stone mill, a layer of soft frost white fluff will be generated on the surface of the washed fabric. Adding some softeners can make the washed fabric soft and soft, so as to improve the comfort of wearing. In short, through different processing methods, denim fabrics will have different appearance and hand feel characteristics.
2.2 physical and chemical characteristics of denim fabric
Good denim fabric should not have any irritation or other peculiar smell, but also pay attention to environmental protection. The denim developed and produced by compact spinning not only returns to the traditional style of ring spinning fabric and meets the needs of people to return to nature and advocate nature, but also because of the characteristics of few hairiness and high strength on the surface of compact yarn, the surface of denim products is bright and silky, and the skin feels better and more comfortable when wearing. At the same time, using this compact yarn as warp yarn, the sizing rate can be reduced by 50%, and the post finishing and singeing process can be omitted, which can save resources and reduce pollution. The combination of physical and chemical finishing will greatly change the appearance style, mechanical characteristics and wearing comfort of denim fabrics. General denim fabrics can be divided into three categories: light, medium and heavy. The weight of light cloth is 200 340 g / m2, the weight of medium cloth is 340 450 g / m2 and the weight of heavy cloth is more than 450 g / m2.
3 market characteristics of denim fabrics3.1 consumption characteristics of denim fabrics
When buying jeans, ordinary consumers do not know the fabric, jeans version and washing water quality. They usually focus on style and price. In fact, it is not clear to talk about consumption without jeans version, fabric texture and processing quality, which will produce obvious consumption misunderstandings. When purchasing jeans, it is recommended to consider your favorite style on the premise of suitable version, exquisite fabric and exquisite workmanship. Many classic Cowboy brand clothes and styles are relatively simple, and even considered ugly and outdated. However, because they do well in the internal quality of version, fabric and processing, the noble temperament can be reflected after wearing these clothes. In addition, consumers should pay attention to the cost performance of products. Excessive pursuit of cheap junk products or superstitious foreign brands with high prices but not high quality are very immature.
3.2 characteristics of China's denim fabric Market
The domestic denim fabric market is still immature, and most of them are caught in the competition of cost and low profit. Few enterprises can independently develop and manufacture original designs and copy too much. Even if they have advanced production equipment and efficient staff, they are always in a passive position in market operation. Although they want to keep up with the pace of fashion, they can only pick up people's wisdom or copy blindly, and the competitiveness of products is insufficient, In the process of marketing, the value of products cannot be improved through brand effectiveness, resulting in the disadvantages of similar and little difference of products in denim industry, which hinders enterprise development and market upgrading, increases the difficulty of upgrading in the process of brand transformation, and virtually creates enterprise operation risk. Although the output of denim and jeans produced in China ranks first in the world, Chinese consumers have only 4 jeans per capita, half of the global consumption level. There are 2 denim shorts, shirts, jackets and skirts respectively, which is the same as the world average.
Generally, the quality of denim fabric refers to its internal quality, which has nothing to do with brand and appearance. The grade of denim products is mainly determined by fabric texture, version design, lathe level, washing process, auxiliary material selection, marketing environment and so on.