The products of denim manufacturers mainly include bromine indigo (commonly known as emerald blue in the market) denim and sulfur black denim, as well as coffee, emerald green, gray, khaki and sulfur blue denim matched with sulfur dyes, and a small amount of bright red, peach red and imperial denim dyed with naftal dyes or reactive dyes. Although the production volume is small, the market demand is urgent, Often can not meet the needs. The main problem is that the color and luster is not stable enough, the importance of dyeing is also poor, and the garment manufacturers are not satisfied. This is related to the small production batch and too many color varieties, but it is difficult to produce color varieties by the dyeing pulp combine, which also has a certain impact, such as large consumption, high cost, and difficult sewage treatment.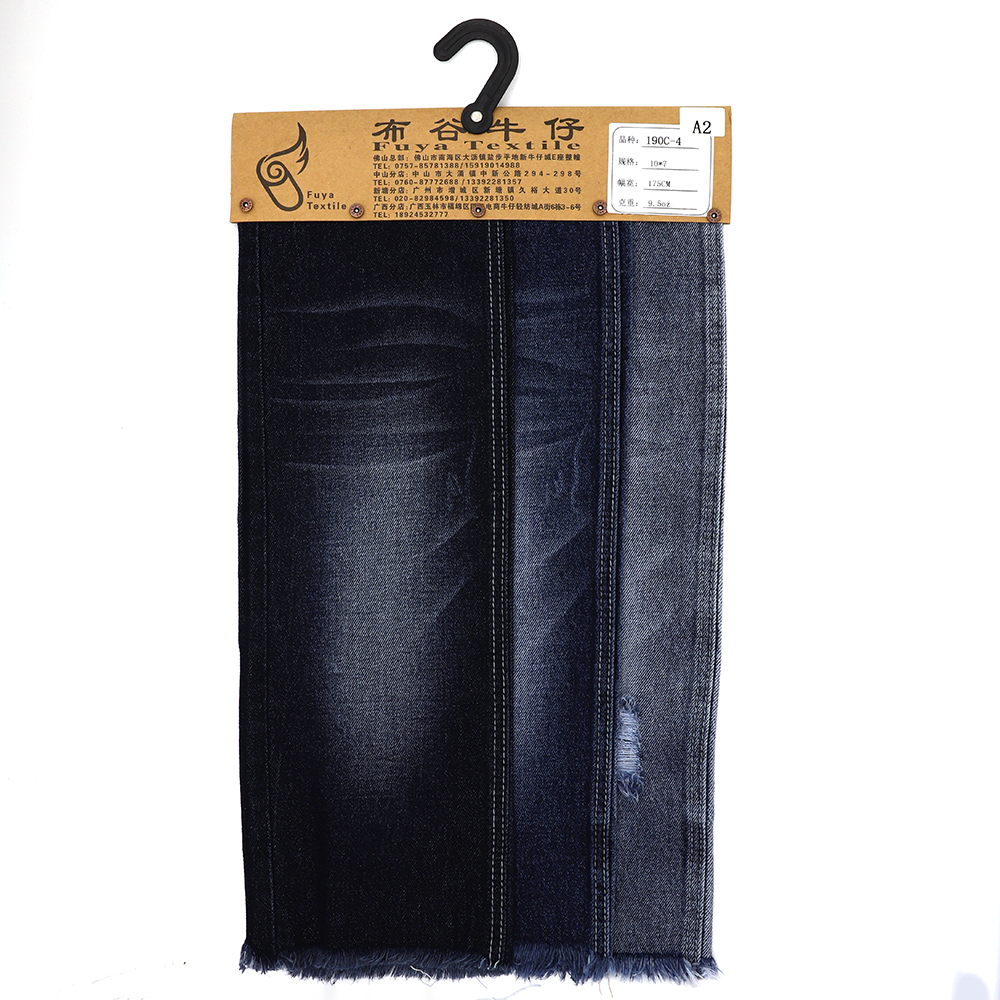 The first solution is to reduce the number of color matching as much as possible in the design, adopt two color matching as much as possible, no more than three color matching at most, or use other more stable dye varieties to replace, so as to adapt to the production characteristics of the dyeing pulp online table and obtain a more stable dyeing effect; Second, the more thorough solution is to adopt the production process route of yarn high-capacity dyeing and warping in yarn dyed weaving factory to produce multi-color denim.As a super fan of jeans, he must have a good understanding of the brand, style, model and version of jeans. A good pair of jeans is inseparable from good workmanship, but the most basic part is denim fabric. The better the fabric goes through the fit, the more it goes through the charm, and the longer it lasts, the more it feels like a cowboy. If the fabric is poor, you can't wear it after washing it several times. It's almost like tearing it up and making a mop1. First look at the characteristics of traditional denim fabrics
Pure cotton coarse count yarn twill cloth is easy to absorb moisture, moisture and sweat. It has good air permeability. It is comfortable to wear. It has thick texture and clear lines. After proper treatment, it can be wrinkle proof, shrink proof and deformation proof. Indigo is a coordinated color that can match with jackets of various colors. Indigo is a non solid color for all seasons. The lighter it is washed, the more beautiful it is2. Then look at the decor denim fabrics with different raw material structuresA small proportion of spandex yarn (about 3-4% of the yarn weight) is used as the core spun elastic warp or weft. The woven elastic denim is blended with low proportion polyester and cotton as the warp. The snowflake denim with white effect after dyeing is made of cotton, linen and cotton wool blended yarn. The high-grade denim is made of medium and long fiber (T / R)
3. Look at the fancy denim fabrics woven by different processing technologiesThe bark crepe denim woven with high twist weft yarn is dyed with dyes such as vulcanization or haichanglan, and then dyed with indigo. The color strip denim with color warp embedded in Indigo warp is hung white or printed on indigo denim4. Denim is made of pure cotton indigo dyed warp yarn and natural color weft yarn, which are interwoven with three upper and lower right twill weave. Generally, it can be divided into light, medium and heavy categories. The width of the cloth is mostly between 114 - 152 cm.
Cloth weight (g / m2) yarn count thickness (British count) light 200-340g / m2 (6-10oz / square yard) 12 More than 12 medium 340-450 g / m2 (10-13 oz / square yard) 10 10 heavy duty over 450g 7 six